"If production volumes happen to fall, we make use of an alternate brand called Greenhouse Fresh that allows us to purchase from Mexico and other Canadian or U.S. operators" … "This allows for better product traceability and transparency, which are very important for us."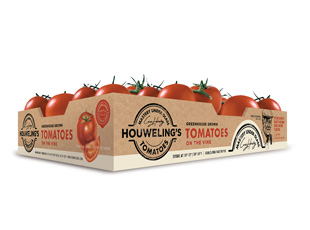 Houweling's Tomatoes is a family owned, world-renowned greenhouse tomato grower with facilities in Camarillo, California and Delta, British Columbia. It controls its entire production chain, from seed to planting, growing, packing and shipping, which ensures maximum control over the product's quality. David Bell, Chief Marketing Officer of the company, says that the main focus of greenhouse growers today is no longer on yield and shelf life, but on flavour, as this is what ultimately attracts consumers and the industry's pendulum is again swinging towards that.
"Any intelligence we get on how to grow better seedlings is something our customers certainly benefit from; in our case, this is achieved through feedback from the crop growing part of the business to the propagation side," explains Bell.
Houwelings was originally a floral greenhouse operator. The father of Casey Houweling (founding C.E.O.) emigrated from the Netherlands to Canada and in 1956 started the family business. In 1976, Casey joined his father's operation and suggested entering the beefsteak tomato market.
In 1985, Casey convinced him to build a 6 acre beefsteak tomato greenhouse, and over the next ten years, those 6 acres expanded to 50; 30 devoted to tomato production and the other 20 to the seedling division. Depending on the time of the year, 10 from those 50 will be used for either crops or propagation. The company's 125 acre facility in California also developed from a smaller, 20 acre property acquired by Casey in 1995. Altogether, Houweling's controls a total of 175 acres under glass, with plans for further expansion in Utah.
The reasons for this latest expansion are twofold; on the one hand, the States is an underserviced market. "We expect 90% of the production to be marketed in Salt Lake City and its surrounding area and this gives us a competitive advantage," assures Bell. On the other hand, not only will the company profit from a deal with an energy plant and the support from the Government, but it will also be able to operate within a 100 mile radius of the city, ensuring sustainability from a business perspective and providing consumers guaranteed access to the freshest locally-grown produce.
"Our California produce in the winter is a hot commodity and most retailers tend to listen to consumers, who demand more U.S. grown produce. In British Columbia we started with 5 acres under lights year-round and we now have 10. Additionally, the California produce, which is the next best thing, is our backup in this market. From this position we also sell to the Pacific North West, and the B.C. grown produce has acquired quite a good reputation in Washington and Oregon," says Bell.
Bell assures that the firm is capable of competing with Mexico, despite the difference in production costs. "We have learned a lot about what growing styles to use to maximise the production. As far as prices go, in the winter we can generate a premium, and with the new facilities and the agreement with the energy plant, competitiveness will be ensured. Additionally, when comparing outdoor tomatoes with greenhouse tomatoes in terms of taste, the latter will always win and the former will only do well at a local level. Retailers also appreciate the food safety advantages and protection against adverse weather conditions."
Regarding this season's prospects, David Bell does not expect a banner year, although he believes it should still be good. There is more acreage in California, which in itself should level things out, and Mexico continues to increase its export volumes and extend the season. All of this makes it easy for prices to fall.
One of Houweling's defining principles is that all produce labelled by the company is guaranteed to have been grown by them. "Other firms will buy it from their competitors locally and repack it, but we won't do that, as we aim to stand firmly behind our produce and have full control over its quality. If production volumes happen to fall, we make use of an alternate brand called Greenhouse Fresh that allows us to purchase from Mexico and other Canadian or U.S. operators, making sure that they use methods that we trust, and we either repackage it as Greenhouse Fresh or leave the original labels. This allows for better product traceability and transparency, which are very important for us."
According to Bell, when dealing with breeders, it is important to devote time for the trial of new varieties, but without losing focus on the main crops that are going to deliver the revenue that will keep the business moving forward. "Seed companies look to us as a firm they can rely on to conduct trials; these are interesting because testing new varieties gives you the right to be the first to market them."
The trendiest varieties are currently snack tomatoes, smaller in size, full of flavour and generally with a longer shelf life, but also assortments of different shapes and colours. "We offer a medley tomato package including grape, mini Roma and cherry and the visual impact has consumers thinking gourmet," explains Bell.
At certain times of the year, Houweling's also exports to the Asian market. Some of the smaller beefsteak tomatoes with little appeal in North America are very attractive for Japanese consumers and Japan is also a good market for the sweeter snack varieties. "It is not primary business for us, but it is certainly a good secondary market, and as with the trial of new varieties, it is important to keep an eye on such opportunities to prevent competitors from capitalising on them, especially when investments are being made in acreage expansion and the U.S. market share inevitably shrinks."
Another aspect that sets Houweling's apart is the role of its C.E.O. "The chief executives of our major competitors, for the most part, are sales and marketing people who know how to hire great growers, but Houweling's has the authenticity of the craftsman's care, as every day Casey walks the greenhouses. Houweling's tomatoes are an extension of who he is and he is always in touch with the crop and considers himself a farmer. Ultimately, consumers like to believe that there is a person behind the brand who is proud of his produce. Casey believes that the company's two main goals are growing great tasting tomatoes and making money to continue growing great tasting tomatoes."
Houweling's also makes very active use of social media and digital tools, with over 17,000 likes on its Facebook page, Twitter, Instagram and Pinterest accounts, a YouTube channel and a mobile version of its website recently launched, which entailed a relatively small investment but is paying off considerably in terms of marketing and brand exposure.
Regarding the introduction of new products, the company has plans to grow herbs, starting with a few types of basil with the opportunity to expand. "Quite often we have customers requesting us to grow bell peppers, but we are resisting it, as we believe in specialisation and we want to be the best tomato growers. On the sales and marketing side, we can service other products because we have good relationships with fantastic growers, but on the breeding and cultivating side, we are best at growing tomatoes and we wish our fame to be based on that for many years to come."
Source: freshplaza.com