Sustainability and traceability, along with the effects of climate change and other environmental issues, were some of the leading topics being discussed at the Sustainable Foods Institute at the Monterey Bay Aquarium Cooking for Solutions conference.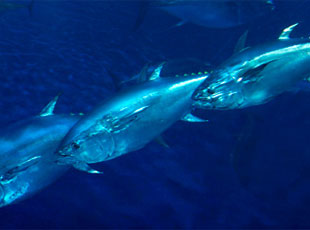 Sustainability and traceability, along with the effects of climate change and other environmental issues, are  topics leading the conversation at the Sustainable Foods Institute at the Monterey Bay Aquarium's Cooking for Solutions conference.  The annual conference features two days of presentations by experts in fisheries, agriculture, academia, research and non-government organizations, and policymakers, along with a host of national media, many serving as moderators and panelists.
As cool Pacific waves gently caressed the shoreline of northern California, more than 200 attendees crowded into conference rooms at the Monterey Plaza Hotel & Spa to examined a broad range of sustainability issues: Closing the Circle of Sustainability, Aquaculture: Setting the Table for Change, Four Fish: Models for Seafood Traceability on a Local, Regional, National and Global Scale as well as Farming: The Next Generation.
The event is presented by Monterey Bay Aquarium, which founded the Seafood Watch program, the tri-fold card living in 40 million wallets and as an app on more than a million smartphones. Originally conceived 15 years ago as a crib card to help diners make responsible decisions about what to eat for dinner, it caught fire with consumers.  It now carries significant influence on fishery producers, food service companies, and national and international seafood policymakers using science-based, peer reviewed, and ecosystem-based criteria.
Fish all over the Gulf, and elsewhere, flap their gills with joy or trepidation, based on whether they've been labeled as green (Yes!), yellow (Think twice!), or red (No way). Seafood Watch has become the ultimate eco-label at more than 100,000 locations: the gold standard for consumers and for policymakers concerned about the health and sustainability of seafood populations worldwide.
"Currently our fisheries have either recovered or on the way to recovery," said Julie Packard on U.S. fisheries, whose family started the Monterey Bay Aquarium and currently serves as its executive director. "The future of our oceans depends on what we do on land. How we manage our activities on land has a huge impact on our oceans.  I am excited and encouraged on the progress of the connection between food and the environment."
Two Gulf Organizations Featured
At the conference, two organizations prominently featured the Gulf's commitment to safe, sustainable and traceable seafood.
T.J. Tate, Sustainability Director for Gulf Wild, joined Local Catch Monterey Bay's co-founder Alan Lovewell, Michael Bell, the director of The Nature Conservancy's California Coastal Marine Program and International Seafood Sustainability Foundation's president Susan Jackson, on a seafood traceability panel focused on local, regional, national and global scales.
"Sustainability starts with the fishermen, or else you have missed the boat," said Tate about Gulf Wild, a program is based on a conservation standard. "Our program is not just about sustainability, it is about responsibility. To have that it must start with the fishermen and continue through to the consumer. We start with giving the fisherman the incentive to join the program; most of the time that is about the opportunity to make more money.  By setting the standard high, they know their fish is sold, and consumers know exactly from where their fish comes."
In addition, for the third year the Gulf Seafood Marketing Coalition highlighted the unique flavors and versatility of wild caught Gulf seafood at the Aquariums Cooking for Solutions. Florida's Cox's Wholesale Seafood and Wood's Fisheries provided Gulf shrimp that are traceable using Gulf Seafood Trace, a program allowing consumers and retailers to discover their seafood's story from boat to plate, ensuring that the species is sustainably managed.
"There is a great demand for Gulf shrimp and seafood," explained Reese Antley, Wood's fisheries vice-president of operations. "It's time for all Gulf States to start working together, instead of competing against each other. I think you are starting to see that with the Gulf Seafood Trace program."
Chef Briana Sammut of Beach House Restaurant in Pacific Grove, CA; former Oprah Winfrey Chef Art Smith: Canada's Food Network Chef John Ash; and Hawaii's Chef Sam Choy, television personality and chef/owner of Lanai Restaurant represented the Gulf with their seafood culinary creations.
"This is an exciting time to be at Cooking for Solutions to share insight, information and appreciation about sustaining the wonderful resource of Gulf seafood for the future," said Joanne McNeely Zaritsky, marketing director for the Gulf Seafood Marketing Coalition. "Both home and professional chefs already know and love Gulf seafood for its exceptional flavor and quality."
Media Coverage
More than sixty journalists from both traditional and online media were on hand to cover the event.  Gulf Seafood News joined Kim Severson of the New York Times, Consumer Reports Jennifer Shecter, Kate Sheppard of the Huffington Post, Sunset magazine's Margo True and Miranda Van Gelder of the Food Network in coverage of cooking demonstrations, panel discussions and networking opportunities with leading sustainability experts.
Lindsay Abrams, assistant editor at Solon.com who moderated the seafood traceability panel featuring a Gulf seafood representative, found current traceability and sustainability programs overwhelming. Trying to demystify the process, she questioned whether there was a way to start the whole system over and streamline it, make it more simplified. "For consumers trying to find sustainable seafood the system is overwhelming. You have stickers on your plate, all different sorts of guides when you get to a restaurant, and none that information is always readily available," she said.
Serving as executive director of  the Aquarium since it opened in 1984, seafood sustainability is important to Packard. She got hooked on oceans in the early 1970's, for her the oceans and the sustainable seafood they produce are an important part of the planet that allows life on earth to exist.
In the effort to meet the goal of sustainable and traceable fisheries, Gulf of Mexico fisheries and organizations constantly research and monitor seafood stocks to remain a leader in sustainability practices. Many of Gulf States have received exemplary scores and designations for enforcement. Gulf Coast seafood remains an integral part of the regions culture, and its seafood community is dedicated to responsible fishing for future generations.
Source: http://gulfseafoodnews.com