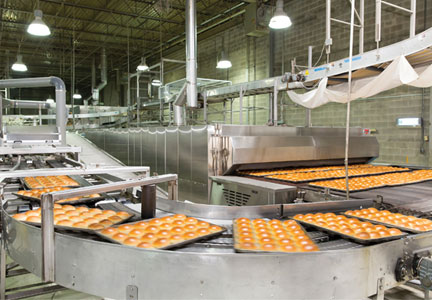 The Food and Drug Administration (F.D.A.) recently released its "Inspectional Observation Data Sets"  for food manufacturers. The most common violations span from pest control issues to sanitation errors.
The data summarizes F.D.A. Form 483s issued during facility inspections from October 2016 through September 2017. During an inspection, investigators issue 483s when plant conditions or practices indicate a violation of F.D.A.'s requirements.
According to F.D.A. consulting firm Registrar Corp., the violations listed closely mirror the most common violations cited in 2016 and 2015. The firm recommended food facilities use this pattern to anticipate what areas of operations may require more attention before an inspection.
Lack of effective pest exclusion/screening  
The most frequent 483s cited were pest control citations, with 330 violations issued for lack of effective pest exclusion and 211 violations cited for screening failures. The F.D.A. issued violations to food companies for not taking effective measures to exclude pests from processing areas and failing to prevent the contamination of food by pests.
The agency requires food manufacturers to have a detailed pest management policy and program that is documented and conducted under the supervision of a licensed pest control contractor.
Sanitation monitoring 
More than 200 violations were cited for poor sanitation standards that did not adhere to current Good Manufacturing Practices (cGMPs). The agency noted common errors involved water contact with food or food contact surfaces; cross-contamination from insanitary objects; poor hand washing, hand sanitizing, and toilet facilities; improper labeling, storage and use of toxic chemicals and more.
Under Food Safety Modernization Act (FSMA) provisions, all registered facilities must comply with cGMPs and have preventative controls in place. These controls include training, audits, documentation and validation.
Plant cleanliness 
Operations with poorly designed or constructed facilities received 192 483s from the F.D.A. It also issued 176 violations to operations that failed to maintain buildings and fixtures. All manufacturing plants must be constructed in a manner that allows all floors, walls and ceiling to be adequately cleaned. A written procedure and documentation for cleaning practices should be available as well.
HACCP plan implementation 
The F.D.A. issued 162 citations to food manufacturers that did not fully implement or commit to their Hazard Analysis and Critical Control Points (HACCP) plans. If processes, such as monitoring, record keeping or verification, were not performed, a violation was cited. While organizations can use existing food safety programs as part of their preventive controls, HACCP plans need to be consistently updated, reviewed and implemented.
Manufacturing conditions
More than 150 violations were issued to facilities that did not manufacture, package or store foods under conditions that minimize the growth of microorganisms or contamination. Preventative controls should be in place for a wide variety of variables and documented in a food safety plan to prevent these hazards from occurring.
Registrar Corp. also noted that this data set is the first to include violations related to the F.D.A.'s Foreign Supplier Verification Program (FSVP) rule.
"Despite the first FSVP compliance deadline passing as recently as May 2017, failure to develop an FSVP was cited 108 times," the firm said. "With the next FSVP deadline landing in March 2018, it is probable that FSMA violations may make their way to the top next year."