The Institute of Food Technologists (IFT) officially launched the Global Food Traceability Center on September 11, 2013 at a press conference held at the National Press Club in Washington, D.C..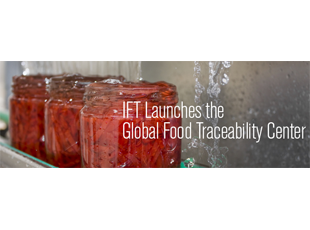 Never a public or private entity brought together the agri-food system stakeholders to focus exclusively on providing timely product tracing solutions until September 11, 2013, when a coalition of industry trade associations, along with the Food & Drug Administration, joined together to create the Global Food Traceability Center.
The Institute of Food Technologists announced the first not-for-profit, unbiased scientific entity focused on product tracing in hopes of reducing recall response times and encouraging efficiency in the supply chain.
Founding sponsors of the Global Food Traceability Center include Walmart, Produce Marketing Association,  Cargill, Eurofins Microbiology Laboratories, FMI Foundation, Global Cold Chain Alliance, GS1 US, International  Association for Food Protection, Intertek Group, Lyngsoe Systems, Mars, National Fisheries Institute, PepsiCo, and University of Guelph.
IFT said the first two of three projects are already underway at the center: the development of a best practices document, a benchmark report on existing traceability standards among top trading countries; and development of traceability courses for online and classroom use.
Today's food supply chain is increasingly complex, and there must be trust in products available for the retailer's 140 million customers each week. Product traceability needs collaboration to work, and that no company or industry can do it alone, said Jack Sinclair, Walmart's executive vice president of the grocery division, who spoke at the press conference.
Walmart can use product traceability to make the supply chain more efficient. Products are recalled from supermarket shelves that are implicated in food recalls by mistake, and improving traceability can help that. But traceability is more than food safety. Better traceability can make supply chain more efficient, said Sinclair.
FDA Senior Adviser Sherri McGarry said the center, among many uses, will help FDA document the benefits of product traceability systems. The agency is tasked with writing a regulation that will require product traceability for high risk foods under the FDA Food Safety Modernization Act.
FDA is in the process of drafting a report to Congress with recommendations on next steps for product traceability, another requirement under FSMA.
From the consumer's perspective, the 2006 E. coli outbreak associated with fresh spinach is a reminder of the price industry – as well as consumers — pays during outbreaks and recalls, said Caroline Smith DeWaal, food safety program director at the Center for Science in the Public Interest. The spinach industry has yet to fully recover, she said.
Still, the core benefit of product traceability is to reduce the number of illnesses and reduce the number of people affected during outbreaks, DeWaal added.